hello.. my new animation LUNAR KICKS is out now!!
Wow.. you can even see it right there on the front page banner, which makes my heart melt... thank you Tom, and NG! I put so much into this animation and it makes me real happy to see people are diggin it.
soon I'lll forget all about it and act like it doesn't exist so I can prove myself again and make something even better, but for now i'll enjoy the reception..!
really wanna thank all my buddies who lifted the short up into greatness.. im grateful!
I met @CADAVER early this year and he is such a bro, talking to him about my idea for the atmosphere and environment of the moon in the short he just immediately got it and gave me EXACTLY what I was looking for. it blew my mind... caddy's a hard worker who really cares about his stuff, you'd be wise to keep an eye on the guy.
I worked with cam before on duncan & jones music so I knew he'd deliver... and he sure did..!! went through so many samples and concepts, but he got the lonely spaceman vibe down in everything he did. I think BOOTS ON MOON is a personal favourite...
my animator bros who never let me down and are god damn talented and cool... what can I say... magi got to put his touch on the ending which makes me happy. I owe you all!!
TEDDY CRIED AND LAUGHED INTO A MICROPHONE 50+ TIMES OVER SEVERAL DAYS, TRYING TO GET THE PERFECT TAKE...! WE GOT THERE IN THE END!! THANKS BRO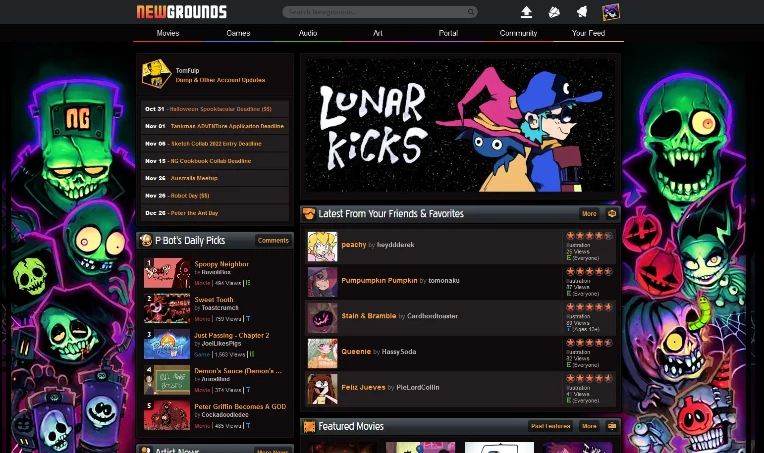 wowee...
I'll just letcha know also that you can download all the ANIMATION FILES for free here:
https://snackers.itch.io/lunar-kicks
you can poke around and look at all the messy behind the scenes shtuff..
on top of everything else, today I also got USER OF THE DAY, WHICH IS BONKERS!!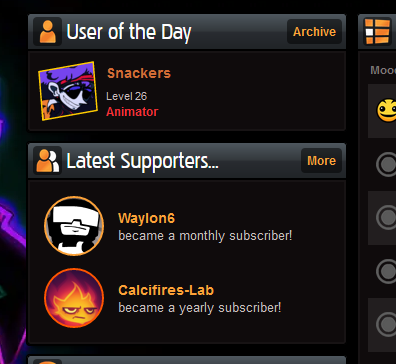 feelin pretty blessed.... I started animating Lunar Kicks at a time when I was a lot less happy, which is why I gave it a bummer ending. let's just say if I were to start from scratch now, it'd be a much happier animation. I thank ye all..
the last thing I'll say for myself is that I'm still working on a comic!! SKELTI CASTLE is a 10 chapter story I've had thumbnailed for months, I'm halfway done with chapter 3 so that'll be out soon!
you CAN read it here on NG, but I'd prefer if you read here on this TAPAS page I made for it... it's higher quality!!
https://tapas.io/series/Skelti-Castle/info
OK im out... whats the next big animation to look for then..? well from me? I DUNNO! gimme a break... but my bro @POSTBOY is cooking up an original animation here on NG so keep your eyes on that OK? cuz its gonna ROCK... REAL HARD!! OH YEAH!!
alrighty, peace!